Paris Hilton's Album Gets Hijacked
As many of you know Paris Hilton has just "dropped" her new self titled album. It didn't take long for someone to tamper with the album's pictures and songs.
UK graffiti virtuoso Banksy has smuggled 500 doctored versions of Paris Hilton's new CD into stores across the country. The CD contain Banksy's remixes and have titles like "Why am I Famous?," "What Have I Done?" and "What Am I For?"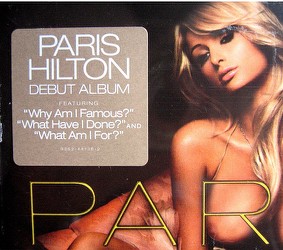 You really should go check out the rest of the pictures
on this Flikr page
.
Boing Boing also has
links to the remixed tracks
.
This is all done by
Banksy
- a UK grafitti artist/genius! Some of the pictures have phrases like "Thou Shalt Not Worship Fake Icons" and "Life Wasn't Meant To Be Fair" - as well as one photo of Paris walking out of a fancy car in front of a bunch of sleeping homeless people in cardboard boxes and it says "90% of Success Is Just Showing Up"
So what do you think? Does Paris deserve it? Do you feel bad for her?
Labels: Celebrities