Project Runway - Season 3 - Episode 9 - Couture du Jour
Here we are....in Paris! I love trips around the world. But it seems like Bravo wants to keep all the fun to themselves!! This week they didn't share any fun screencaps of Paris except one:
So I guess you will all just have to watch the episode or go to
Bravo's website
to see the designers and Tim in Paris. And I apologize in advance for not being able to break up the text with more pictures from this episode.
For all of you looking for a full play by play this week - check out the
Live Blog I did on Blogging Project Runway
. Those folks at BPR are really amazing - bringing you all the best info, gossip, interviews and exclusives to get you through the days between PR episodes.
OK I know you are all just wanting to know already - what happened this week???
This week we got it all!!! An Angela complaint from Jeffrey. Laura's ribcage. Vincent getting off on everything. Michael being his "make it work" self. Kayne hamming it up for the camera. And Uli reminding us that she still kicks ass!
We start this week in Parson's Paris. Catherine Malandrino is back. Her and Tim announce this week's challenge. The designers have 2 impossible days to make a "Couture" gown.
Tim informs us that "couture" is actually something that can only be called "couture" if the designer has some special couture license in France. But I guess the designers got some fancy day pass to be able to use the word ad nausium for these 2 days. Maybe couture by association to Catherine Malandrino?
But really Tim says couture and means that the dresses must be handmade, using hand sewing techniques and beading. The designers already know they are in for a tough 2 days. And when things get tough Vincent strips down to his underwear.
The designers are taken back to the fancy shmance hotel over looking Paris - and Jeffrey takes his last chance to say how happy he is to see Angela gone (god forbid he moves on). They all then head off to a lovely dinner at a cafe that could be on a movie set for Paris. On the corner of a small side street, dining al fresco with wine glasses and uncomfortable looking chairs.
(any old Paris corner cafe)
And before I knew it I saw a Laura rib cage shot. I have a feeling this week we better get out the BBQ sauce because Laura is bringing the ribs back.
(She just can't get enough)

The next day Tim takes the designers to the top of Paris - Montmartre - where the designers get an amazing view of Paris and plenty of inspiration.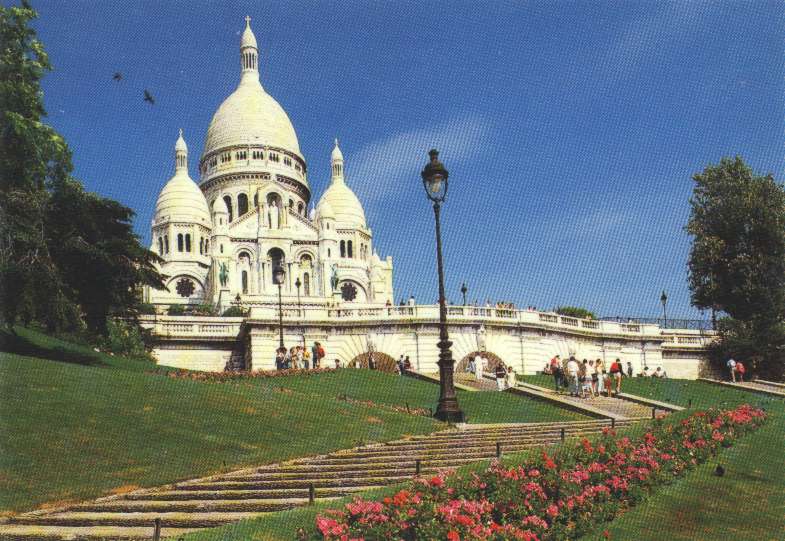 (Take it in because soon you will be back in that stuffy NYC workroom)

And while I am enjoying this view of Paris I have to be reminded how sleazy Vincent is by him telling us how couture gets him off. I guess he couldn't contain himself anymore because for the past 2 weeks he was able to keep his mouth shut and act somewhat sane. And suddenly I remember why I want him to be cut every single week.
The designers now go to a French fabric store - are given 300 Euros (that is 375 bucks for us ethnocentric Americans) - and we are told that this is throwing off the designers a bit because Mood was within their comfort zone - but now a new store, new fabrics, and weird money is just confusing them.
(You mean they have their own currency in Europe?)

But even with being thrown off, the designers still find fabrics that fit their style. Jeffrey gets freaky with plaid. Michael soothes us with blue. Laura bores us with black. Kayne makes us shake our heads with gold mesh. Vincent creeps us out by just being around. And Uli surprises us by picking only one color.
Back at the workroom the designers start to "Debrouillez-vous" which may mean make it work (or does it mean "unwind yourself?). Tim can say anything and it is like a God speaking to me.
Jeffrey is talking about how no designer has ever won a challenge while they have immunity and he hopes to be the first. I think Paris is Jeffrey's lucky charm!
Meanwhile - Laura is worried for Kayne, but really she should be more worried about herself. I see a baby bump in full effect designing a rib cager. I guess she can't step away from that cut for more than one week at a time. And doesn't her current design remind you of other outfits she made on the show?
Vincent is in his own world - slowly removing layers of clothing. Laura says Vincent is a legend in his own mind. Oh girl I couldn't have said it better myself. I knew that insanity can't be blamed strictly on editing.
The episode goes on with Laura talking about Kayne - Jeffrey talking about Laura - Vincent talking about Michael - Uli talking about Vincent - Jeffrey talking about everyone. Just a bunch of game day talk and everyone hoping to come out on top.
Finally we are taken to the "Couture Party" which is a riverboat party with Catherine Malandrino and plenty of champagne. The designers were given French models to use at the party. They were only given model cards and so they had to guess how the dress would fit - which means a lot of last minute "make it work" all around.
And poor Michael - - first his model shows up and she is 4 sizes smaller than he thought she would be - and his dress just isn't coming together as he hoped it would - and then some snot nosed kid threw eggs at the designers and made a mess of Michael's dress. This just isnt his day.
The runway is on the boat and Catherine Malandrino scores the dresses. And just for fun, the dresses are sent back to NYC to be walked again by the NYC models (yes that means a new fitting and has to hold up with traveling) - and then it will all be judged again by Michael Kors, Nina Garcia and Richard Tyler. Would you expect less from the same producers who made the designers sleep on torn up mattress frames?
(You call that couture?)
And finally - here are some pictures....compare Paris runway and NYC runway - Each of these designs really looks different on each model - it amazes me.
WINNER - Jeffrey
(Paris)
(NYC)
His wish is Catherine Malandrino's command. He is the winner while having immunity. This gown was wild and interesting - and dare I say - beautiful? And not in that ugly beautiful way that Jeffrey always pulls. This is actually very Jeffrey and very couture. Good job!

2nd Place - Uli

(Paris)
(NYC)
THANK YOU ULI!!! You finally listened to the judges and made something that doesn't scream leopard print and flip flops (not that I don't love your designs) . And the details all say Uli - yet couture for sure. You are totally going to fashion week!!
Safe - Kayne
(Paris)
(NYC)
Oooooh Kayne - you really cut it close this time. You really are asking to be sent home. When Nina questions your taste level you should just start packing up your Kayne belt while the rhinestones still shine. I have a feeling next week you are out.
Safe - Michael
(Paris)


(NYC)
I think this week Michael got his get out of jail free card thanks to his prior ass kicking. The dress was a good effort but the execution wasn't there. Luckily he is still in the game and we are given a chance to let us love him once again next week.

Safe - Laura
(Paris)
(NYC)
The dramatic effect of the collar was there in Paris - but the dress just didn't hold up during travel. By the time it got to NY it looks like she mistakenly pulled out one of her own outfits from her suitcase. It looks like the judges are getting tired of Laura's one track style and if she doesn't change it up she will soon be a stay at home mommy.

And FINALLY YOU ARE OUT - Vincent


(Paris)
(NYC)
What can I say? I have been waiting for Vincent to be auf'd week after week - and finally it is here. Of course not without grossing me out one last time. The dress was a Laura reject. The challenge was couture and you glue gunned it. You deserved to go and I am just so happy you didn't sneak your way into fashion week.

Predictions?

Final 3 - Uli, Michael, Jeffrey
Next out - Kayne then Laura

Wow we are down to 5!!! Where did this season go? Soon we will get that great little reunion special - and then FASHION WEEK!!! Can't wait to see what happens next...

Labels: Project Runway